I definitely felt like some kind of cliche when I turned up at this vegetarian co-operative cafe on my bike. The only thing missing was a copy of the Guardian under my arm.
I was actually slightly sceptical about how good the food would be. Either way, it is difficult to draw too many conclusions from one visit because there is a different cook every night (he or she chooses the menu, does the shopping and takes the bookings) . The rota is published online so if you do have the best meal of your life, you can always try to return next time the same person is cooking.
The decor is simple, lit by flickering candlelight in the evenings. With the restaurant fast filling up there was a laid-back buzz about the place.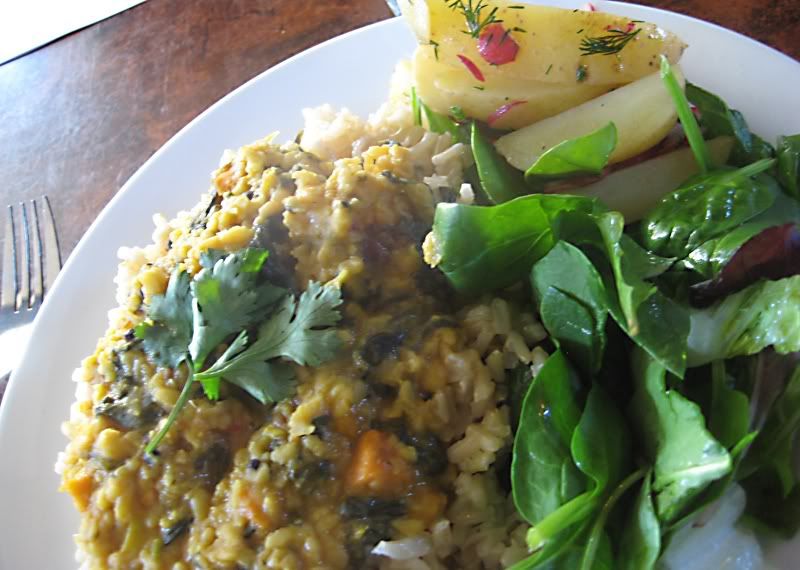 Picture by Annie Mole
On our visit there was one starter (butternut squash soup) and two choices for mains and desserts. Main courses are £7, starters and puddings are £3.
The soup was quite pleasant, the flavour of the squash ringing true, though a bit of spice would have helped to add depth. The main area for improvement was the slice of factory-style sliced bread, whereas a good quality roll would have transformed the dish. Then again, for £3 you can't complain too much.
We tried both of the main courses - stuffed Portobello mushroom with roasted vegetables, and Turkish chick pea curry with rice. Both came with a pair of salads, one with shredded cabbage and apple, and the other tomato-based. The stuffed mushroom had the edge in my opinion - it seemed less overtly worthy, thanks in part to the use of dairy produce (melting cheese in the mushroom stuffing), while the roast veg, which included potato and sweet potato wedges, would have converted even a vegetable-hater. To be fair, the mildly spiced curry wasn't too "whole-foody" either - it seemed like a dish that naturally leant on pulses rather than having them thrust into it.
We finished off with a chocolate and hazelnut tart. It was quite a small slice, but so rich in flavour that I decided this was forgiveable. The filling was slightly soft, with pieces of hazelnut to give a texture contrast. For £3 it was excellent.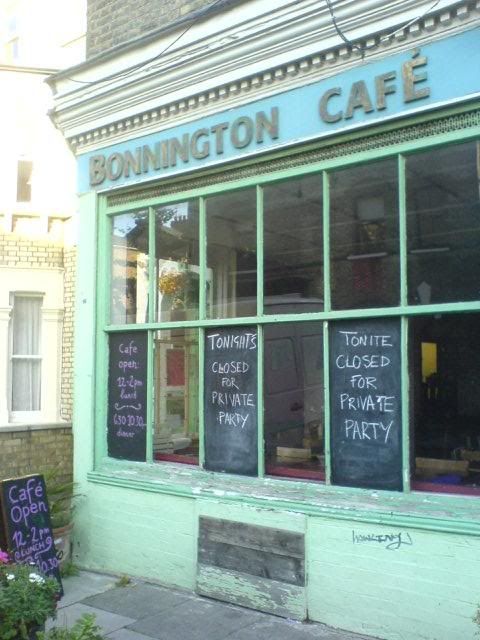 Picture by Vincent Pollard
The cafe is unlicensed - jugs of tap water are brought, and you can buy hot drinks, but apart from that it's a case of bring what you want to drink, whether this is apple juice, beer or wine (there is no corkage charge).
Not counting the cost of wine we had brought (should you forget, the nearest convenience store is a few minutes' walk away on the main road, though there is an Italian deli nearer if you are visiting in the daytime) the bill came to £13 a head for three courses. Now you can't say fairer than that.
It was not the most accomplished meal of my life, but it was a pretty good one - and it felt like enthusiasm and love had helped to season it.
Bonnington Cafe, 1 Vauxhall Grove, Vauxhall, SW8 1TD
www.bonningtoncafe.co.uk
Open 12-2pm and 6.30-10.30pm, 7 days a week.